Click here to see who's rowing at the upcoming Club Rows


Click Here for Winter Weather Rowing
Great Salt Lake Rowing is a community rowing association that is based at the Great Salt Lake Marina. The goal of the club is to promote the sport of rowing both at the recreational and competitive levels. Rowers of any ages and walks of life, with a wide range of rowing skills.

The Great Salt Lake Rowing now has a 501(c)(3) nonprofit status. This means that grants and donations to the club are tax-deductible for the donors.

Join our Facebook Group and learn about all the upcoming events and group rows.

Just search for the Great Salt Lake Rowing group and ask to join the group.
Website sponsored by XMission.

Great Salt Lake Rowing Hats for sale! T-shirts - $17, Hats - $15. Contact Michael Spackman (m.spackman@q.com or 801.560.0915)
Welcome to a new rowing season on the beautiful Salt Lake. For 2014 we have purchased a second hand eight! Contact me if you want to get into a crew! Also watch the upcoming Events… we have several LOCAL rowing activities scheduled to show the valley that we DO have rowing in our desert state!

Hope to See You On The Water,
Diane Horrocks
President GSLR
For the Park City TV video click play on the video below.
UPCOMING EVENTS
(also listed under the Calendar tab and on Facebook in the Great Salt Lake Rowing group)
| Event | When |
| --- | --- |
| Club rows | Tuesday nights @ 6:00PM and Saturday mornings @ 8:00AM. |
| Sunset/Moonlight Row | Tuesday September 22 7:45 time pending |
| Idaho Rowing Camp | September 17-20 in Oakley Idaho/ snake River |
| Wasatch Mountain Head Race | September 26th on the Jordanelle Reservoir |
| OUT OF STATE Head of the Oklahoma | October 3rd and 4th Moose, Diane and Brenda have gone to this with Waterford (we CAN put a few boats on their trailer) |
| Antelope Island Row | Saturday in October. |
| Boat Fixing/Blade Painting/W4X re match/Boat Naming | Saturday end of October with Potluck lunch afterwards. |
and use your credit card to pay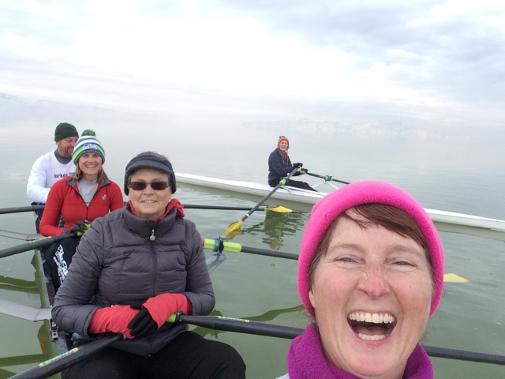 If it's cold, bundle up to Row on the Lake – January 2015!