Click here to see who's rowing at the upcoming Club Rows


Click Here for Winter Weather Rowing
Great Salt Lake Rowing is a community rowing association that is based at the Great Salt Lake Marina. The goal of the club is to promote the sport of rowing both at the recreational and competitive levels. Rowers of any ages and walks of life, with a wide range of rowing skills.

The Great Salt Lake Rowing now has a 501(c)(3) nonprofit status. This means that grants and donations to the club are tax-deductible for the donors.

Join our Facebook Group and learn about all the upcoming events and group rows.

Just search for the Great Salt Lake Rowing group and ask to join the group.
Website sponsored by XMission.

Great Salt Lake Rowing Hats for sale! T-shirts - $17, Hats - $15. Contact Michael Spackman (1michael.spackman@gmail.com or 801.560.0915)
Welcome to a new rowing season on the beautiful Salt Lake. For 2014 we have purchased a second hand eight! Contact me if you want to get into a crew! Also watch the upcoming Events… we have several LOCAL rowing activities scheduled to show the valley that we DO have rowing in our desert state!

Hope to See You On The Water,
Diane Horrocks
President GSLR
For the Park City TV video click play on the video below.
UPCOMING EVENTS
(also listed under the Calendar tab and on Facebook in the Great Salt Lake Rowing group)
Event
When
Club rows
Saturday mornings @ 10:00a
New Year's Row
Saturday Jan 2nd @ 10:00a. (Check Facebook if you really want to row on the 1st).
US Rowing Level 2 Coaching Class
Saturday and Sunday, January 16-17, 2016 somewhere in SLC
Winter Training
Mondays and Wednesdays from 6:00-7:30p. West High School. Starts in January 25th through March 30th. First come, first served. Cost $96. Payment due at first class.
Indoor Fresh Water Flip
Sunday morning end of Jan/begin Feb in Dimple Dell Pool.
SLASH-F Indoor Rowing Race
Tentatively February 20th @ 8am in SLC somewhere.
Beginner Lesson
Alumni Party
Spring (date TBD) - free refresher lesson to all 2015 lesson participants.
and use your credit card to pay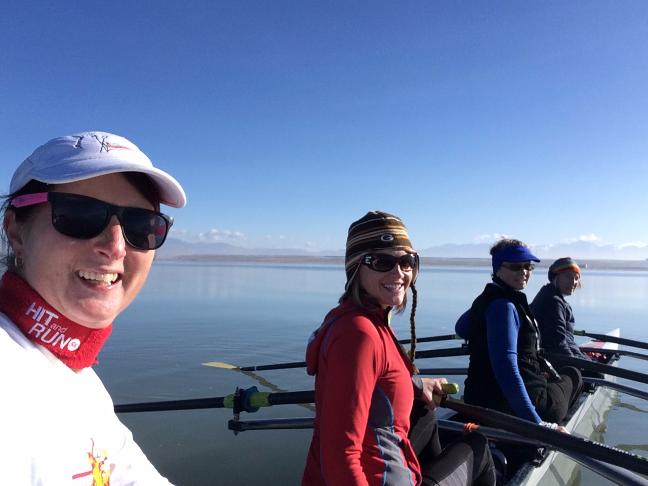 If it's cold, bundle up to Row on the Lake – December 2015!